What is a Long-form Birth Certificate?
There are two types of birth certificates issued in the UK:
Short-form birth certificates, which contain only the child's details.
Long-form birth certificates (also known as 'Full' or 'A4' certificates), which include both the child's and the parents' details.
The Long-form certificate also shows the exact place of birth, the occupation of the father (and more recently the occupation of the mother), and the address of the person registering the birth.
Why do I need a Long-Form Birth Certificate?
Long-form certificates are essential when applying for ancestral visas to establish parentage for entitlement to residency, for passport applications, employment purposes and are now the only type accepted for all other official purposes. Whilst both Short and Long Birth Certificates were issued by UK Government Register Offices, changes to government policy has devalued the Short certificate, resulting in the short-form certificate now being phased out.
Why was I given a Short certificate and not a Long one?
When a birth was first registered, parents were issued with a free copy of the Short certificate, whereas Long Certificates were only issued upon request for an additional fee. Things are generally changing now, however, and it's more common to have a long-form version issued at the time of registration.
Can I get a Long certificate if I only ever had a Short version?
Yes, you can! When a birth is registered, a long version of the certificate is archived both locally with the registrar and centrally in the appropriate regional record (the GRO). As such, even if you were only ever provided with a Short certificate, it is possible to request a full version at any time. Vital Certificates will only produce Long certificates as standard. We are sometimes able to obtain a Short-form on occasion, should you request this specifically, though not always.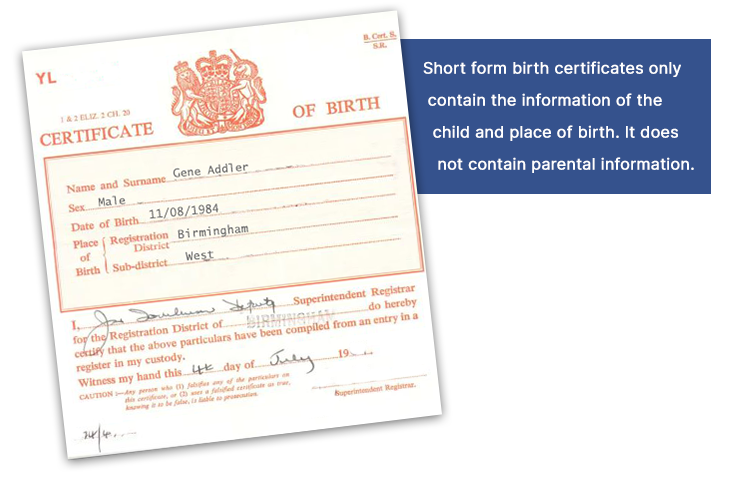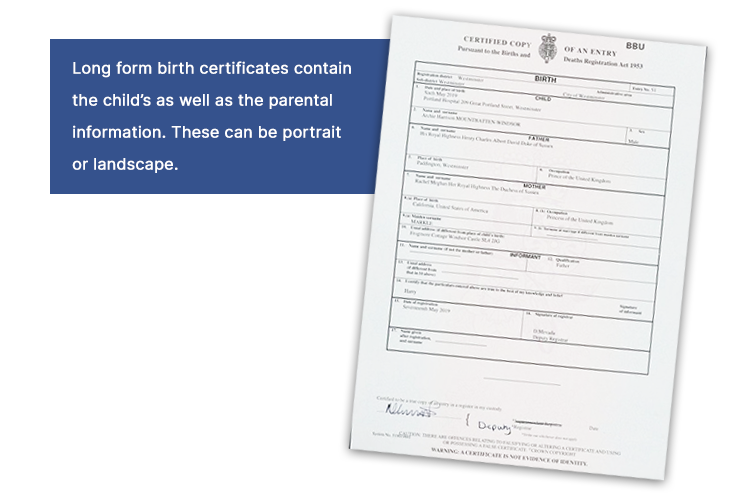 Will my new copy look the same as my original?
Dependent on when the certificate was issued, and where it was produced, your new copy may not look the same as your original. Some areas produce certificates in landscape format, some in portrait. There can also be differences in how the record is produced, for example it may be a print of the originally hand-written record, or it may be a typed version of the original information. However, each version is valid and can be used as official ID purposes regardless.
How can I order a Long Birth Certificate?
Our replacement Birth Certificate service is fast and reliable. Order a Government-Issued UK Birth Certificate today.
Can I just use a photocopy of certified copy of my original Certificate?
No, you won't be able to present a photocopy of your certificate for official use, even if it's been certified by a solicitor. Birth Certificates are government-issued and you'll always be required to supply an original document.
I've lost my original, what if I order a replacement then find it?
Don't worry, if you find your original copy, your new version won't invalidate your old one! You can have as many copies of your Birth Certificate as you like, and none of them will be more "valid" than the other. It can be handy to have several copies, as they can often get damaged, lost in the post or misplaced, so having a spare is a good idea.
Why choose Vital Certificates?
You won't have to trawl the records to pinpoint the right one - we'll do it for you!
If you're overseas and need a new UK certificate, we can get it to you.
Depending on the details, we can replace certificates for overseas UK births.
Our urgent service gets your certificate dispatched to you in 3 working days!
If you need to present your certificate abroad, we can legalise it for you.
We 100% guarantee acceptance of our certificates for all official purposes.