We supply official UK Birth Certificate replacements from the long-form version archived as a UK Birth Record at the time of the birth registration. Any birth recorded within England, Wales, Scotland and Northern Ireland can be re-issued, along with births that occurred outside the United Kingdom but were registered with the appropriate UK authority within the country of birth. These would include Armed Forces, Consular, High Commission or Embassy registrations.
What is the original birth certificate?
When a birth is first registered, the registrar will create a record of the information provided at the appointment. This will form the official UK Birth Rregitration, and a birth certificate will be issued at the time. This may either be a short form or, if you request it, a long form. You can read about the difference below.
The certificate you're issued at the time will be an "original copy of registration of birth". Should you lose this copy, you can always request a new copy be made from the archived information which will then be deemed as an "original" also, and be accepted for all official purposes.
What is a UK Birth Record?
If you're looking for a UK Birth Record, you might be looking for a "maternity record" which would be held at the hospital where the birth took place. This is effectively a record of live birth. You would need to make a formal request to see these records. If you didn't give birth in a hospital, try contacting your GP surgery who should be able to assist you. Viewing a maternity record should be free of charge, but requesting copies will incur a charge.
Other types of record which are sometimes called a UK Birth Record includes the official entry which is placed in archive once a birth is registered. This is officially known as "birth registration" rather than record. This is what will be referred to when creating a copy of this registration in the form of a UK Birth Certificate.
How can I get a copy of the UK Birth Certificate?
You can request an official copy of your birth certificate here. This will be a long-form copy of your certificate which will be government issued and accepted for all official purposes within the UK. We can issue certificates for England, Wales, Scotland and Northern Ireland, as well as any overseas UK births which were registered with the UK authorities at the time and has been passed back to archive.
What kind of birth certificate will I receive?
All birth certificates are issued by the appropriate government registrars, and are what is known as the 'Long-Form', 'Full' or 'A4' birth certificate. These Long-Form Birth Certificates will include all details of the birth parents of the child. In the case where the father of the child was either not known, or not identified at the time of registration, only the mother would be named. This differs from a Short Birth Certificate which does not include any parents' names.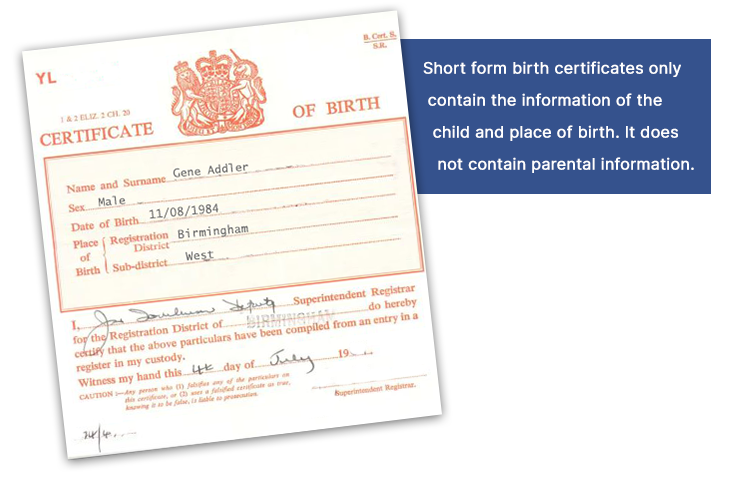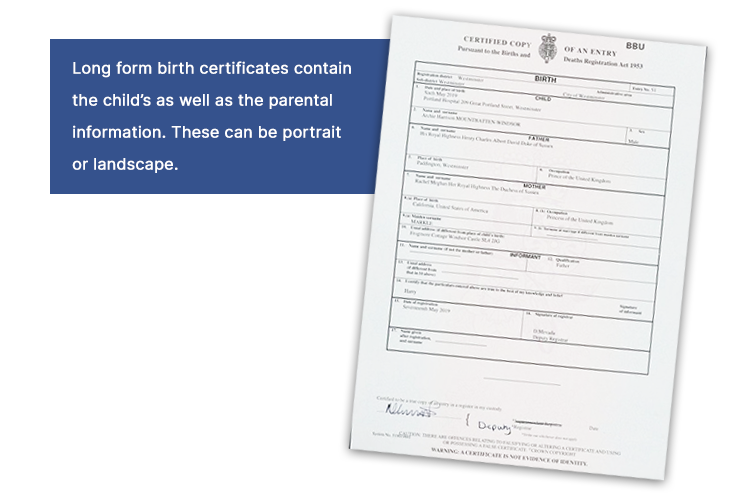 We always issue long-form certificates as standard, unless otherwise requested. Whereas some areas of the UK will still issue a short-form certificate, they are slowly being phased out and will shortly be unavailable for request. This is due to the short-form certificate not being a valid for of ID.
What date can I request a birth certificate from?
Our birth records are limited to the beginning of civil registration within each country. For England and Wales this dates back to July 1st 1837, for Scotland it is January 1st 1855 and for Northern Ireland it is July 1st 1864.
Can I request someone else's birth certificate?
Under UK law, birth certificates are known as Public Records which means that any person can apply for a copy of any certificate, providing that they know the details of the birth that is required. This can be helpful for both government and legal services needing proof of birth, as well as family history (genealogy) researchers looking to discover new ancestors. Please note however that where we believe an application to be connected with an attempt to obtain information for the purposes of identity fraud, the application may be rejected and details passed to the relevant police authority.
What if the child was adopted after birth?
If the child has subsequently been adopted, the birth certificate can only be obtained if the original birth name of the child is known. We cannot issue a birth certificate under an adopted name, unless the adopted name is the same as the birth name. In these cases, you should apply for an Adoption Certificate instead. The birth certificate of an adopted person will be written on showing that the birth certificate is now out of date as it has been superseded by the adoption. Therefore it will rarely be needed for any official purpose, with the Adoption Certificate replacing the birth certificate for official purposes.
What if I need to use the UK birth certificate overseas?
If you need to present the certificate overseas, you'll probably need to have it go through a process known as "legalisation", also sometimes called "attestation". In a nutshell, it's the process or appling a series of stamps to a document to make it recognised overseas. Think of it as the document's passport.
To get the document legalised, you'll need to figure out the exact procedure requried, as each country has their own set of guidelines when it comes to accepting foreign documents. The easiest way to get your certifcate prepared is to use a specialist like Vital Consular, who can take care of everything for you. We can even provide the copy of the certificate to me legalised! Get in touch today to see how we can help.
Is my birth certificate accepted as ID?
Whilst some situations may require you to provide your birth certificate, it's not legally classed as official ID. This is because most forms of ID are not required to include a photo of the individual, such as a passport or a driving licence. If you do need to provide a birth certificate for example employment purposes, any birth certificate provided by us will be accepted. We guarantee it!