Are these certificates accepted for all official and legal purposes?
Duplicate British Birth Certificates are often essential to prove identity when applying for:
Passports
Visas
Bank accounts
Pensions
Social Security

Employer ID
Driving licence
Visas & Immigration
Marriage
Adoption
We offer a 100% guarantee that your Replacement Birth Certificate will be accepted in the UK for all your needs, so you can order from us risk-free.
When you need a UK Birth Certificate quickly...
There are times when you need a copy of a Birth Certificate and time is of the essence. This is especially true if you need the certificate to be sent outside the UK. We offer 3 options to help both our UK-based and overseas clients in need of a speedy and secure service:
Our priority 3-day dispatch service gets your certificate to you faster
UK Special Delivery and worldwide courier options removes the worry of slow postage
Email copies can be sent to you on dispatch with our Scan and Send service
What type of certificate will I get?
In the UK, there are two types of Birth certificate: Long-form (A4) and Short-form. The main difference between the two types of certificate is that the parental details are shown on the long-form version. These are now the only acceptable type of Birth Certificate for any official purpose and that's what you'll receive from us.
For full details of exactly what is included on a British Birth Certificate in the UK, please visit our Questions (FAQs) page.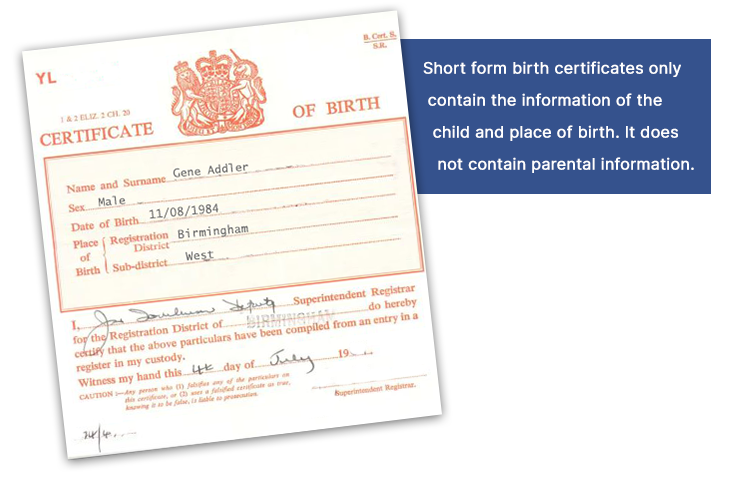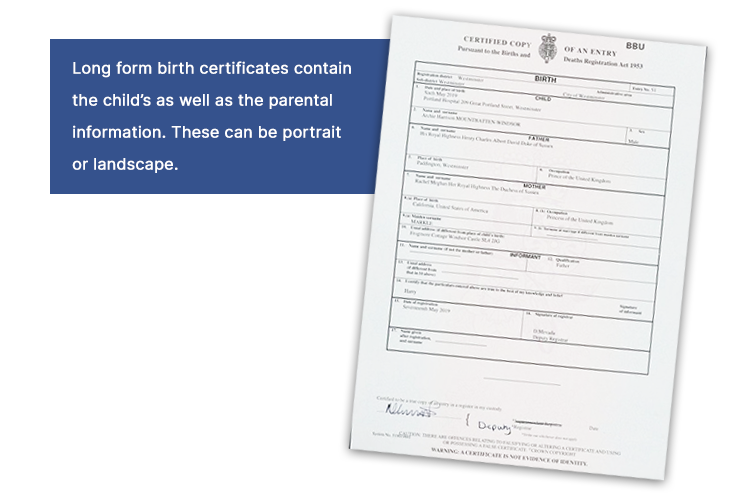 What if I've only ever had a short-form birth certificate?
Some people have only ever had a short-form certificate, as this is what was issued when their parent(s) registered their birth. These were generally free, as opposed to the long-form version which usually incurred a charge. Don't worry, however, as anyone can still request a long-form version, even if you've never had one before. The information provided at the birth registration (including parental information) is all held on file, so you can request the long-form version at any time.
What if I was adopted?
If you were adopted, your adoption certificate will supercede your original birth certificate, so when it comes to ID paperwork you'll need a copy of this to be accepted. You can get a copy of your adoption certificate instead here. If you're not sure whether you do need a birth or adoption certificate, you can read our blog post here which explains in more depth about these certificate types, and how short-form birth certificates issued in the past can cause confusion when trying to locate the correct paperwork.
What information will be on my birth certificate?
A long form certificate contains information about the child as well as the parent or parents who were named at the time of birth registration. It will include any parents names, place of birth, their occupation and address at the time of registration. The child's name, gender and date of birth. It will not contain time of birth unless it is the certificate of a twin birth.
Will the birth certificate be typed or hand-written?
This depends. Often the certificate will be a reproduction of the original birth certificate which is a print of the hand-written version. In other instances, it will be typed. This entirely depends on when and where the registration took place, as well as the condition of the original. For example, if the source record of the birth is in poor condition or can't be clearly duplicated, the registrar will produce a typed or freshly hand-written version. It can sometimes be possible to request which type you'd like, but these applications can take a lot longer to source.
Will my certificate be landscape or portrait?
Again, this depends on when it's issued and where the original birth record is held. Some certificates will be red print, some will be black, and they can either be formatted as landscape or portrait. ~Neither type is more "correct" than the other and all are acceptable as official certificates of birth. It's not possible to request it to be produced a certain way - it all depends on how the original registration was archived.
What if my birth was registered outside the UK?
Where British nationals are born abroad, we can additionally supply copies of certificates relating to any UK births abroad registered at a Consulate, High Commission, or with the Armed Forces. This service only applies to those births that have actually been registered with the UK authorities. Please note that it can take up to 18 months for the records to reach the UK from the overseas authorities so requests for recent births would need to be made to the specific in-country birth registrations department.
I live outside the UK. Will the Birth Certificate Replacement be accepted in my country?
If you are using the Birth Certificate to get a British Passport, regardless of where in the world you live, you can use the Birth Certificate without any additional steps of verification.
For overseas clients needing to validate the authenticity of the Certificate as having been produced in the UK by an official body, we also offer a legalisation service where the UK Foreign, Commonwealth & Development Office will attach an official Apostille to the reverse of the certificate. We would always recommend that you check with whoever you are presenting the certificate to, to see if an Apostille Stamp is needed.
Still need help getting your Birth Certificate?
If you still have questions that aren't covered within our FAQ section, get in touch with us. We have 10 different ways you can reach out to us, including giving us a call on 0330 088 1142, or one of the many other ways you can choose from here.
Our friendly team of specialists can help you understand what you require, and assist you in locating and requesting the correct document for your needs.
Why choose Vital Certificates?
You won't have to trawl the records to pinpoint the right one - we'll do it for you!
If you're overseas and need a new UK certificate, we can get it to you.
Depending on the details, we can replace certificates for overseas UK births.
Our urgent service gets your certificate dispatched to you in 3 working days!
If you need to present your certificate abroad, we can legalise it for you.
We 100% guarantee acceptance of our certificates for all official purposes.
Customer Feedback
"Working with Vital certificates was a real life saver for me. I needed my birth certificate to obtain my passport and they really came through for me. They even went the extra mile for me and sent it directly to the passport office for me to save time. I would use their service again & highly recommend them to anyone else needing there help. Thank you." Kevin Brown - San Diego, CA, USA
"After 4 decades of carefully preserving my birth certificate I found myself in the Philippines, a long way from home, being asked for a full certificate. The one in my possession was the short version. I found Vital Certificates on Google and my problem was solved. For a reasonable fee and simple application 8 days later my birth certificate was despatched. They supplied my certificate in good time as advertised. I would recommend them to anyone. Thank you." Vince Edwards - Aberdare, Wales
For your safety, Vital Certificates Ltd is a registered organisation under the UK Data Protection Act (DPA).