Changing your name after marriage, divorce and double-barelling
Quick. Simple. 100%
Guaranteed.
If you're in the UK and wish to change your surname there are several ways this can be done. If you're getting married, your marriage certificate may be enough proof for you to make the change, whatever your gender, as long as the change is obviously derived from the event of the marriage.
It's not however a legal requirement to update your passport if you change your name, at least not straight away. The cost of updating your name on a passport can be expensive, especially if you still have many years of use left in it. In this instance, it can be a much cheaper option to request a Deed Poll in order to update your records and accounts. A Deed Poll will be universally accepted by all government and independent organisations.
Change your name for just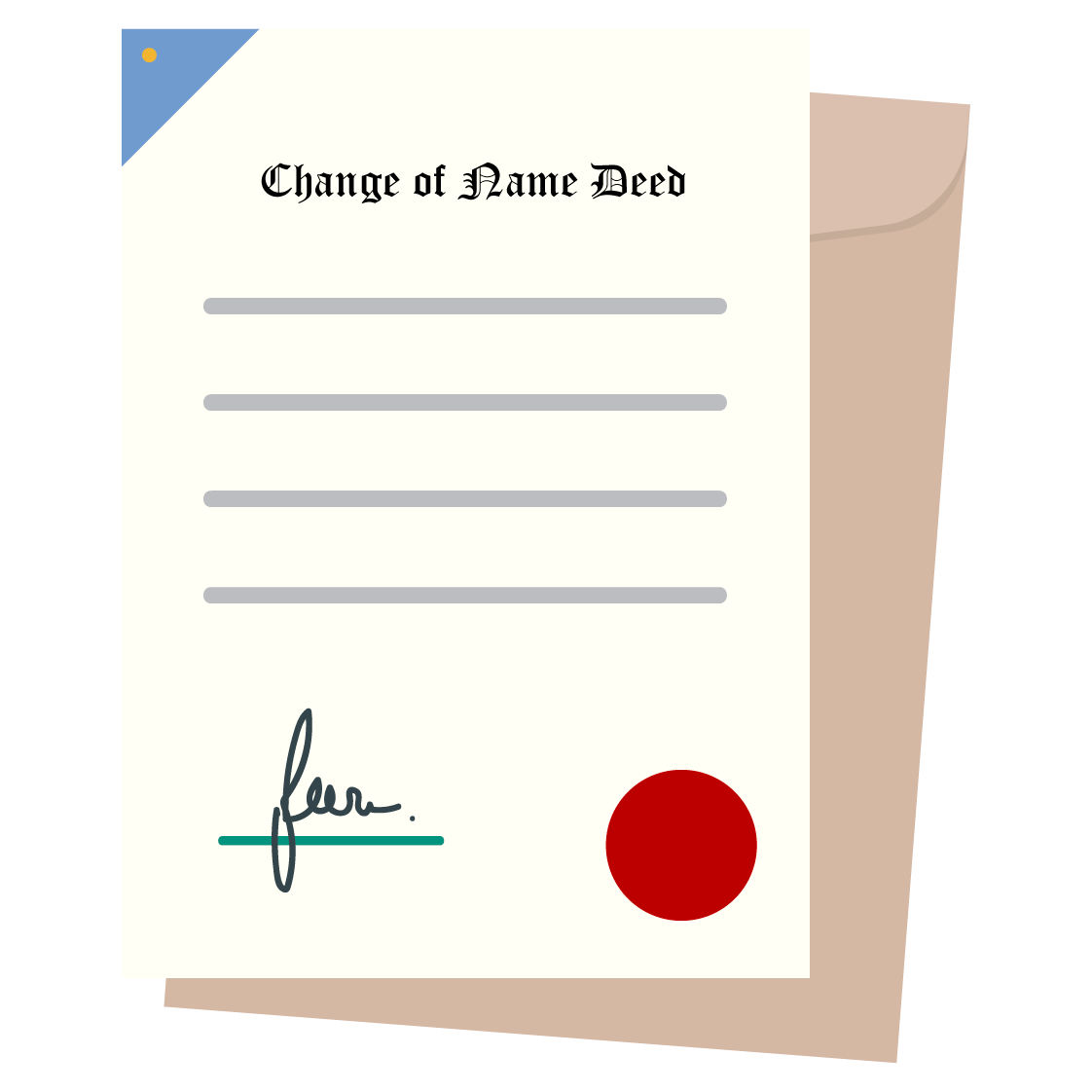 £25.00
+VAT and delivery
Changing your name as a same-sex couple
If you're in a same-sex relationship things should work the same as a heterosexual couple. If one partner is simply taking the other's name, then it should be the case that your marriage or civil ceremony certificate is enough evidence. You may experience some issues however when you request records to be updated and because of this, many individuals decide to update their passport first to enable them to use this official ID to support other requests.
Changing your name after separation or divorce
If you decide to change your name after a separation but before legally divorcing, you will need a Deed Poll. You don't need to supply any paperwork or evidence in order to apply for this and is a popular choice if an individual doesn't wish to continue their married name until divorce paperwork is finalised.
If you have legally divorced and you have your Decree Absolute, you can simply present this along with your marriage certificate in order to revert back to your maiden name. To use a different surname other than your maiden name, you will be required to apply for a Deed Poll.
Changing your surname if you're a widower
If you're widowed and would like to change back to your maiden name, you can use your official marriage certificate and your partner's death certificate to request your name change. If you don't have either of these documents, or you would like to choose a different surname other than your maiden name, you can apply for a Deed Poll to make the change.
Double-barrelling your surname
If you're getting married and have decided to double-barrell your surname, as long as the new name is clearly derived from the marriage and is surname-only, you should be able to do this with your marriage certificate. For example, if you get married and combine the surnames Brown and Jones into "Jones-Brown", this should be acceptable. If you introduce any more elements to the name or make additions of middle names, this will require a Deed Poll.
Although most governmental departments in the UK are now recognising this name format and accepting marriage certificates as evidence, some smaller companies and institutions may still have issue with double-barrelling. It's can be a real time saver to either apply for your passport to updated first, or opt for a much cheaper Deed Poll which will be accepted universally by all UK-based companies and other official bodies. This means you'll only need a single document to make all the changes you need.
Changing your names as an unmarried couple
Some couples decide to change their names to give the appearance of being married without actually tieing the knot. This is perfectly acceptable, provided it is not done for fraudulent purposes. Bear in mind that this will not gain you any of the legal rights which you'd enjoy if you were legally married.
Changing your surname for any other reason
There are many other reasons you may want to change your surname, including if you simply don't like the one you have! In most of these cases, you can make the change quickly and easily by requesting a Deed Poll from Vital Certificates. The process can take as little as 10 minutes and we offer a full guarantee that your Deed will be accepted for all purposes within the UK.
Ready to make the change?
Click below to complete our short form and get your new name on its way to you. You'll receive a professionally bound and sealed Deed Poll which we guarantee will accepted by all government departments and other UK-based companies.
Who will accept my deed poll?
We guarantee 100% acceptance for any Deed Poll issued by Vital Certificates, provided it's been completed and witnessed correctly once you receive it. This includes the DVLA, insurers, HM Passport Office, employers, utility companies, banks, education institutions and anywhere else you need to update your details. We provide an easy-to-follow guide with every Deed Poll order to help you complete the document correctly and if you still need support, our team is always here to help.
Why
choose

Vital Certificates?
100% Acceptance Guarantee
We guarantee your Deed Poll will be accepted by all UK companies and organizations.
Professionally Prepared
Bound and sealed on high quality stock by our specialists.
Fast Certificate Preparation
We check and prepare your Deed quickly, before posting it out to you.
Ongoing Support
We email you a easy to follow guide when you place your order on how to use your Deed Poll.
Knowledgable Staff
Our team were established in 2006 and have years of experience in document preparation.
Easy Ordering
Fast and simple ordering process; request your Deed Poll in as little as 10 minutes!
Still got questions?
You can either get in touch with our friendly team of specialists who will be able to assist you, or you can read our comprehensive Frequently Asked Questions. Whatever you need, we're here to help!
If you're not sure whether you need a Deed Poll, or want to know more about the process, read our FAQs.
Read FAQs
If you still have questions and you'd rather speak to a real person, we get it. Our friendly team is here to help today.
Get In Touch