Non-Binary and Transgender Name Changes in the UK
Non-Binary and Transgender Name Changes in the UK
Quick. Simple. 100%
Guaranteed.
If you're in the UK and wish to change your name as part of your gender-affirmation, the process is simple and can be completed in just a few simple steps. Many individuals who identify as Non-Binary wish to adopt a more gender-neutral name and make this change legal, so they're able to request their official ID with their new name too.
If you're an individual looking to transition and apply for a Gender Recognition Certificate, changing your name prior to applying is often a requirement to show you have been living full-time as the gender you wish to transition to for a set period. This is usually around 2 years, but can differ. You do not have to wait to change you're name if you're ready however, you can apply for a Deed Poll at any time!
Change your name for just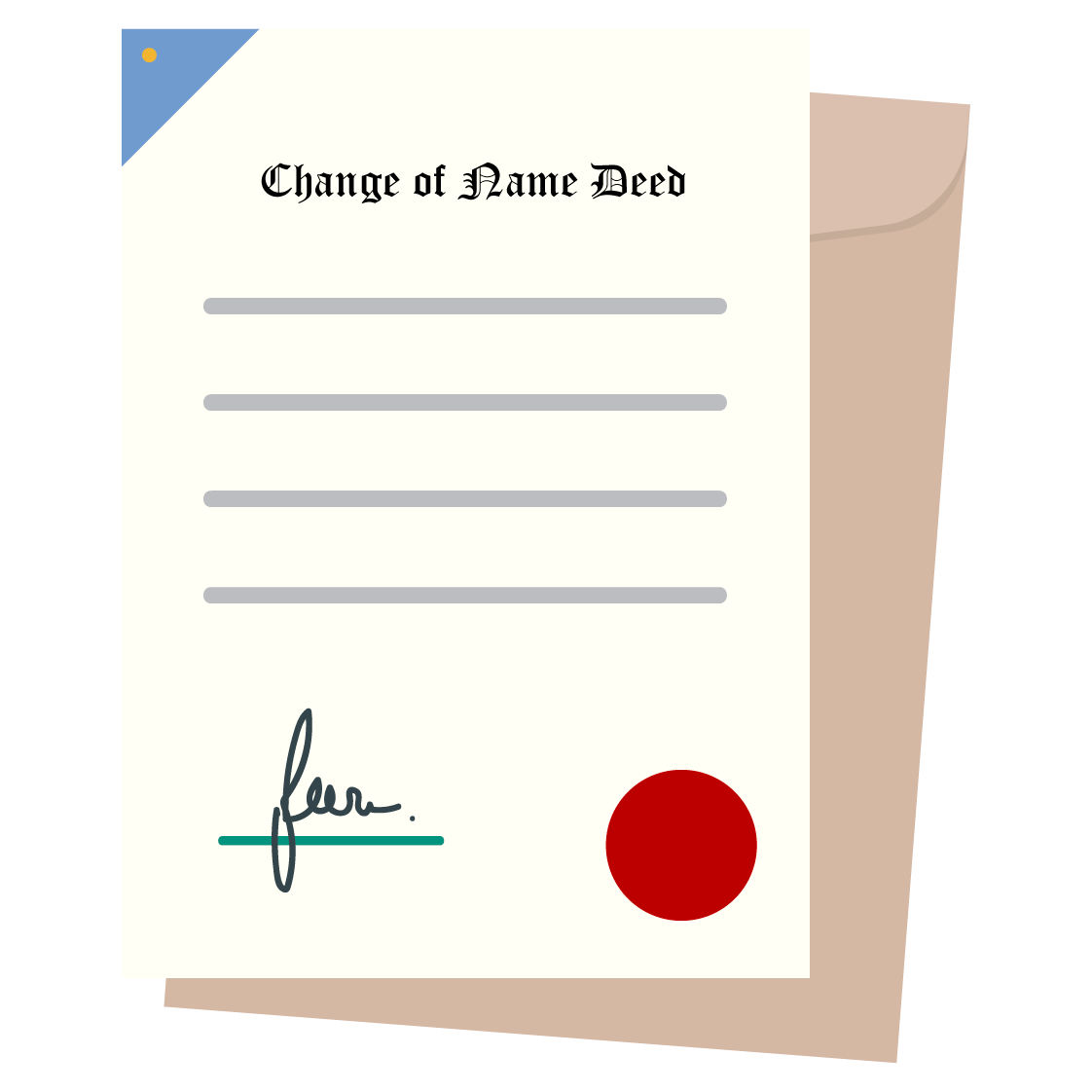 £25.00
+VAT and delivery
Changing your name on your official ID
If you decide to change your name legally, you can do so with a Deed Poll. There are no restrictions on doing so, provided you are over 16 or have parental consent (your parents would need to apply for this on your behalf). Once you have your Deed Poll issued and signed by youself and two independent witnesses, it is ready to use! You can send an original copy to any company or government department and request they update their records with your new name. This include your Passport and driving license if you hold one, as well as bank accounts and any other companies you hold an account with.
Having a name you identify with can make a huge difference when it comes to feeling more confident about yourself. Adopting this name officially and using it in your daily life might seem like a huge undertaking, but it doesn't have to be. You can request your Deed in as little as 10 minutes through our website and sit back whilst our specialists check it over for you to ensure it meets legal requirements. We'll then bind and seal it, before posting it out to you ready to sign. We'll also email you a guide on how to complete the Deed when you place your order!
Changing gender on your official ID
Do bear in mind that in the UK, there are only two recognised genders. Therefore, even if you change your name as a non-binary person, your official ID will still bear either an M or F where necessary. Hopefully in the near future, this will change to offer more options to those who do not subscribe to binary genders.
If you are transitioning and want to apply for a Gender Recognition Certificate, this will allow you to then request your gender be amended on your ID documents including your passport and Driving License. To find out more about the process of obtaining one, read our blog post here.
Changing your title as a transgender or non-binary person
If you want to change your title, you do not need a Deed Poll do do this alone. A title, such as "Mr" or "Miss" is not part of your legal name, and can therefore simply be adopted by useage. If you decided to use a gender-neutral title, otherwise known as honorific, for example "Mx." (pronounced "miks" or "muks") or "Nb." (pronounced "en-bee"), you can do so! Of course, when it comes to using it on your official ID and accounts, this can pose problems as progress is somewhat slow in recognising gender-neutral titles. Many large corporations are starting to lead the way in offering additional options, such as HSBC bank, but it may be that some of your paperwork will still carry a prefix you don't particularly identify with.
Ready to make the change?
Click below to complete our short form and get your new name on it's way to you. You'll receive a professionally bound and sealed Deed Poll which we guarantee will accepted by all government departments and other UK-based companies.
Who will accept my deed poll?
We guarantee 100% acceptance for any Deed Poll issued by Vital Certificates, provided it's been completed and witnessed correctly once you receive it. This includes the DVLA, insurers, HM Passport Office, employers, utility companies, banks, education institutions and anywhere else you need to update your details. We provide an easy-to-follow guide with every Deed Poll order to help you complete the document correctly and if you still need support, our team is always here to help.
Why
choose

Vital Certificates?
100% Acceptance Guarantee
We guarantee your Deed Poll will be accepted by all UK companies and organizations.
Professionally Prepared
Bound and sealed on high quality stock by our specialists.
Fast Certificate Preparation
We check and prepare your Deed quickly, before posting it out to you.
Ongoing Support
We email you a easy to follow guide when you place your order on how to use your Deed Poll.
Knowledgable Staff
Our team were established in 2006 and have years of experience in document preparation.
Easy Ordering
Fast and simple ordering process; request your Deed Poll in as little as 10 minutes!
Still got questions?
You can either get in touch with our friendly team of specialists who will be able to assist you, or you can read our comprehensive Frequently Asked Questions. Whatever you need, we're here to help!
If you're not sure whether you need a Deed Poll, or want to know more about the process, read our FAQs.
Read FAQs
If you still have questions and you'd rather speak to a real person, we get it. Our friendly team is here to help today.
Get In Touch